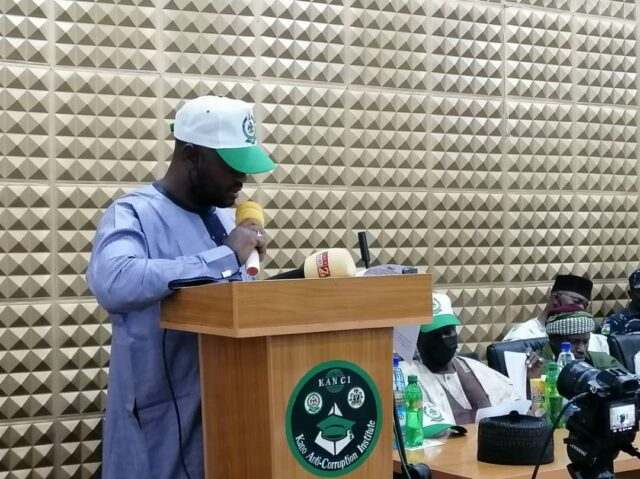 The Acting Chairman, Kano State Public Complaint and Anti Corruption Commission Barrister Mahmoud Balarabe has described Kano as a leading pace setter in the fight against corruption.
Barrister Mahmud Balarabe made the disclosure at a public lecture organized by the Commission to commemorate the 2021 International Anti-corruption Day which is conducted on every 9th December as declared by the United Nations.
Read AlsoGwandu Emirate Tussle: Supreme Court Slams Two Year adjournment, Case shifted to Nov 2023
" Kano State government is the first among its peers to established the the first state to establish a Legal Institutional Structures to compliment Federal Government efforts in fighting the scourge of corruption in the state and Nigeria as a whole.
The Acting chairman also highlighted some of the achievements, the Commission attained under his leadership from July 8 to date, which according to him include intercepted and seized of two trailers loaded with expired maize products, brought into Dawanau food market by some unpatriotic individuals as organized and conducted promotional interview for the staff of the commission.
Read Also: Virtual Court Sitting Facilities Consolidates Spirit of ACJA – Abubakar Malami
He further said the commission received an average of sixty five complaint and petitions per day as again thirty complaints that were received in the past.
Justice Watch gathered that during the event, the provost, Kano Anti-corruption Institute Dr. Dahiru Ja'afar Usman presented a lecture with the title" Role of citizen and society in fighting corruption".
Justice Watch similarly gathered that the theme of this year's event is "Your right, your role:say no to corruption" attended by the Representatives from the Kano State zonal offices of EFCC and ICPC, the NBA and other key prominent stakeholders.