Kano State Government has launched standardized premarital screening certificate, empowered over 250 people living with or affected by HIV/AIDS and flagged up Multi disease community medical outreach as part of the commemoration of World AIDS Day.
Speaking at the inaugural ceremony, held at Coronation Hall of the State Government House, the First lady, Professor Hafsat Abdullahi Umar Ganduje said the gesture was part of the State Government's commitments and desire to develop health sector in the State.
Also ReadWorld AIDS Days: Kano Govt. Harps on Free Testing, Counseling
The wife of the governor, said World AIDS Day is observed on 1st December every year to raise the awareness of the AIDS pandemic caused by the spread of HIV, reduce stigma and discrimination.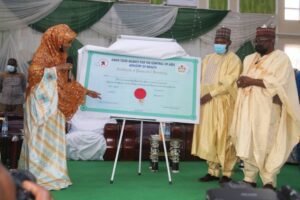 Professor, Hafsat Ganduje said the theme of this year world AIDS day was specially selected to call on all stakeholders in the HIV response to move forward, toward the equitable provision of service in both urban and rural communities to reach people left behind and called on all stakeholders who is faithful in ending HIV/AIDs to lend their voice in the fight against HIV/AIDS "as I am lending my voice today."
Also Read: Man Jailed to life imprisonment for defiling, infecting 6 year old sister in-law with HIV/AIDS
The First lady, recall how COVID19 devastated communities the world over exaggerating equities and distracting services, we may not forget about the challenging conditions of life of many people living with HIV/AIDS.
She expressed delight to see the lineup action for the 2021 World AIDS day commemoration that includes empowerment of people living with HIV/AIDS orphans and vulnerable groups across various stages including tailoring, leather works, barking and beautification that will go a long way in reducing the inequalities among infected or affected people.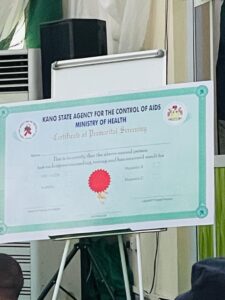 Professor, Hafsat Ganduje commended the efforts put in place to screen people for diseases like HIV/AIDS, Hepatitis, Hypertension and diabetes during multi diseases community outreach in different communities across five emirates of the State.
She unveils the readiness of the government to guard the co-bill certificate against all forms of forgery.
In his remark, the Commissioner of Health, Dr Aminu Ibrahim Tsanyawa lamented that, Kano State is committed to achieving the United Nations target of 95-95-95 to end AIDS by 2030 through premarital screening by ensuring 95% of all the State population know their HIV/AIDS status, 95% of those found positive were on Medication and 95% of those on Medication get their viral load to suppress.
A statement by Aminu Bello Sani, Public Relations Officer, Kano State Agency for the Control of AIDS ( KSACA) said earlier, in his welcome address, the Director-General of the Agency, Dr Sabitu Y. Shu' aibu Shanono thanked Governor, Dr Abdullahi Umar Ganduje for the support and cooperation in fighting the HIV pandemic in the state.