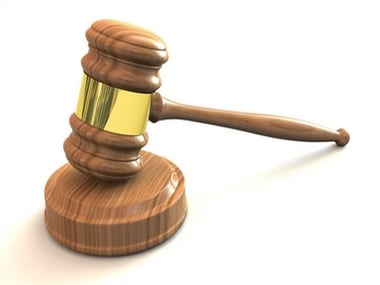 Kano state Magistrate presided by Senior Magistrate Aminu Gabari has admitted Muazu Magaji Danbala, a man who called Kano State Governor Dr. Abdullahi Umar Ganduje and his 2 Children, 'Kano thieves' to bail in the sum of N500 with two sureties in like sum.
Also Read: Defamation of Character Against Ganduje: Court Orders Remand of Muazu Magaji
Justice Watch News earlier reports that, the First Information Report, alleged that the defendant was on the 26th October, 2021 at about 1100hrs posted on Facebook Platform, the image and portrait of His Excellency, Executive Governor of Kano State including his children Abdulaziz Ganduje and Balaraba Ganduje with a bold written on it 'Barayin Kano' knowing fully well that his action may result to breach of peace of peace within the state and outside
Earlier, the defendant pleaded not guilty to the charges and thereafter Defense counsel Barrister Saka applied for his bail.
When the case resumed Monday, for ruling on bail applications. The Trial Magistrate, admitted the defendant to bail in the sum of N500 with 2 Sureties, who Shall be a Village Head of Sabon Garin Kiru, and Hisbah Commander of Kiru LGA.
Consquently, after the court ruling on the bail application, Defense counsel Barrister Saka prayed the court to further review the conditions.
Also Read:Muhuyi Magaji: Court Orders Hearing Notice To Be Served On Kano AG and Others
In his submission, the counsel argued that no Village Head or Commander of Hisbah in the entire Kano State will stand as surety in the matter that involved Kano State Governor.
He argued that Both Hisbah Commander and village Head are civil Servants working under Kano State Governor, he therefore prayed the court to review its conditions.
The counsel further submitted that the Supreme Court has warned Judges against using Civil Servant as part of the condition before admitting bail, urging the court to soften the condition to enable the defendant comply with the conditions.
In his response, the Prosecution Counsel, Barrister Wada Ahmad Wada, Principal State Counsel submitted that the argument of the defendant was not supported by any law, stressing that courts are enjoined to work with fact. Barrister Wada argued that Defense counsel submission were mere speculations.
The Barrister Wada similarly said that 177 of Adminstration of Criminal Justice Law ACJL of Kano State 2019.
"That the defendant admitted to bail be required to produce such surety or sureties, as in the opinion of the court to ensure his appearance as when required."
In his ruling, Senior Magistrate Gabari refused to review the bail conditions as prayed by the defense.
" It is too early for the defense to start complaining about bail conditions without making any attempt"
"Justice is for the 3 way traffic for the Complainant, Defendant and Society". The court ruled.
Meanwhile, Barrister Saka applied to have all the record of the proceedings in the case.
The Court adjourned the case to 29th November, 2021 for further mention.