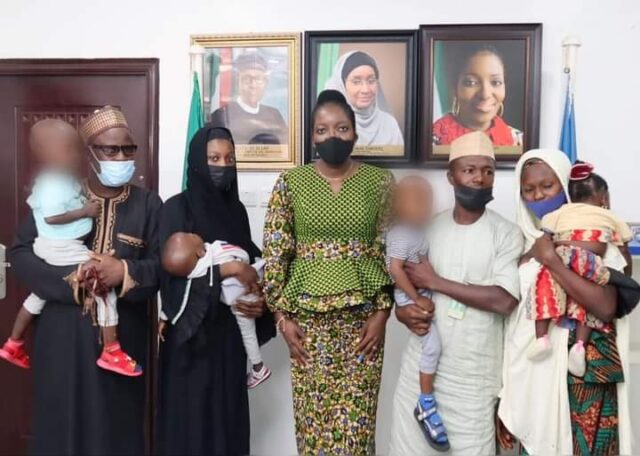 The National Agency for the Prohibition of Trafficking in Persons (NAPTIP) has reunited two rescued children with their parents.
Handing over the children to their parents at the headquarters of NAPTIP, the Director General, Fatima Waziri-Azi called on parents to ensure adequate protection of their children.
Also Read: Sexual and Gender Based Violence: ROLAC Meets With NAPTIP Boss
The NAPTIP Boss said the children under the age of 4 were abducted in Lafia, Nassarawa State in May 2021 and sold to different women in Anambra State.
" One of the child resold from Anambra state to Abuja. Both children had their identity changed from Sherif Umar to Chigumezu Njoku and Abdullahi Adamu to Chibueze Daniel." The DG disclosed.
Also Read: NAPTIP Seals Baby Factory In Aba, Arrest 3 Suspects
She also called on the public to be aware of the new trick and trend of traffickers who come into the community and familiarise and earn the trust of community before perpetrating their nefarious act.
In their speeches separately, the parents of the victims described the event as the best moment in their lives
They however commended Mrs. Fatima Waziri-Azi and staff of NAPTIP for bringing back their stolen mandate.
Also Read: EXCLUSIVE: Sensitization, Pillar in Fighting Human Trafficking Across Border – ICMPD
"This successful story were attained through commitments, doggedness and collaboration"
They enjoined parents to always monitor the movement of their wards as well as reporting any strange movement of strangers to nearest security agencies.