In recent times, there has never been an issue globally bandied on the reflect about unfortunate slavery period and posing threat to the socio – economy and political development of the world like Human Trafficking.
Human Trafficking does not in anyway represent any religion, cultural or manifestation of any organised society. It is the most dehumanizing act a human being can do to his fellow human being.
According to an Authoritative source, Human Trafficking classified into two major groups, that is from urban to rural and Transborder, which is the ugliest and monstrous form of human trafficking.
It is unfortunate that the traffickers engage the use of force, fraud, coercion, false promises and other sinister tactics to engage victims into slavery labor, commercial sex worker, phonographic films, and human organs transplant . All these, against the wish of the victim and its for economic benefit to the traffickers.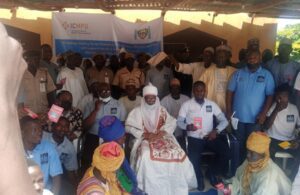 Traffickers might use violence, manipulation, or false promises of well-paying jobs or romantic relationships to persuade victims into trafficking situations.
Land border has been identified as entry flash point for traffickers to conduct their dastardly act.
Statistics from National Agency for the Prohibition of Trafficking in Persons (NAPTIP), Kano Zonal Command has revealed that from January to October, 2021 alone, 700 victims of human trafficking were rescued in both Kongolan Border town and Babura community, which is the highest rescue in Nigeria so far in 2021.
The statistics, similarly indicated that, from October 2020 to October 2021, 22 human traffickers were sentenced and accordingly convicted to various jailed terms upon rigorous investigation and prosecution by NAPTIP, Kano Zonal Command. This include 8 convicts from January to October, 2021.
While Kongolum a border town in Mai'adua Local Government Area of Katsina becomes one of the most notorious route of Human Trafficking, Babura Local Government Area in Jigawa State serves as mini hub for traffickers, who rented houses and haboured young boys and girls to traffick outside the country.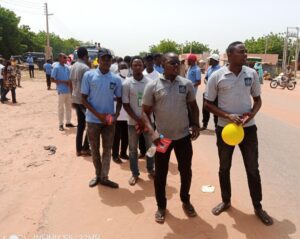 In line with the above, concerted efforts were initiated to curtail the menace across Kongolum border and Babura community. The program was established under the auspices of the project between Nigeria and Niger on Trafficking in Persons, which was funded by the Netherlands and implemented by International Centre for Migration Policy Development ( ICMPD), the Nigerian National Agency for the Prohibition of Trafficking in Persons ( NAPTIP) and its counterpart, the Nigerien National Agency for the Fight Against Trafficking in Persons on Migrants ( ANLTP/TIM).
Fundamentally Speaking, high powerful joint caravan Sensitization and Community Dialogue on Trafficking in Persons were carried out from September 27 to 28, 2021.
The sensitization was targeted at the local population living around the border communities on both the Nigeria and Niger sides. While the Nigeria's NAPTIP focus its outreach exercise at the Babura Community and Kongolum border town in both Jigawa and Katsina States respectively, at the same time, Niger ANTLP/TIM concentrate its efforts in Zinder, Niger Republic.
The Sensitization effort was designed to held concurrently on both sides of the border i.e Niger and Nigeria, as part of the effort to strengthen cross-border cooperation between NAPTIP and ANLTP-TIM in the fight against trafficking in persons and other transitional organized crimes in around the border areas.
Offences of Human Trafficking: NAPTIP Rescues 80 Underage Victims In Kano Zone
In Nigeria, the sensitization programme featured a technical team, led by Director General, National Agency for the Prohibition of Trafficking in Persons NAPTIP, represented by Mr. Josiah Emerole, Director, Public Enlightenment of the Agency. Other members of the Agency during the sensitization tour include: Angela Agbakhaei, Head  of Intelligence and International Cooperation Unit NAPTIP Headquarters Abuja, Barrister Abdullahi Babale, Kano Zonal Commander, Abdulkadir Mahmoud Turajo, Head of Research and Programs Development, Kano Zonal Command.
Others were Rabe Ibrahim, Head of Operations, Kano Zonal Command and Aliyu Abba Kalli, Head of Public Enlightenment, Kano Zonal Command
On the other side, Dr. Mojisola Sodeinde, Head of International Centre for Migration Policy Development (ICMPD) West Africa, represented by Adeniyi Bakre, Programme Assistant, (ICMPD).
The First day of the programme commenced with a rally at Babura town, from Local Government Secretariat and ended at Babura District Head Alhaji Mustapha Nata'ala's palace, papers were presented by various speakers at the palace.
In her address, the DG, NAPTIP, Dr. Fatima Waziri-Azi said the genesis of the campaign was to highlight the negative effect of Human trafficking which is increasing on the alarming rate.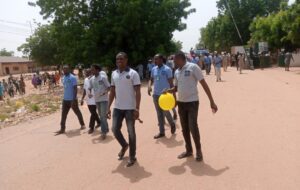 Dr. Waziri-Azi, represented by  Mr. Josiah Emerole, Director Public Enlightenment of NAPTIP also said that traditional Institutions and religious leaders had been playing significant role in stamping out human trafficking.
" We are here to inform you that NAPTIP works beyond sitting in Federal Capital. We bring this sensitization programme to let you know that Human Trafficking is Transnational organised crime which requires collective responsibility to fight it vigorously"
The DG lamented that Babura community is one of the gateway for Traffickers to European Countries.
She stated that NAPTIP is aware Traffickers rented house in Babura to habour young boys and girls outside the country.
He warned residents of the community to desist from such habit noting that, extant laws of the country empowered NAPTIP to confiscate any property use in human trafficking these include house and vehicle.
" We are here to sensitize you on our existing laws, which says any person found aiding or abating human trafficking will be liable for conviction with jail term and compulsory fine".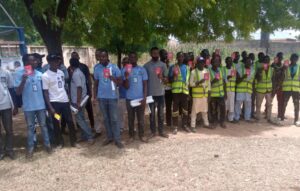 Similarly, in her speech in Kongolan, and Babura, Dr. Mojisola Sodeinde, Head of ICMPD, West Africa, stated on the background of collaboration.
" International Centre for Migration Policy Development (ICMPD) is an international approach. In its work to create efficient cooperation and partnerships along migration routes. Its three organisation with 18 Member States. Active in more than 90 countries worldwide, it takes a regional pilar approach to migration management, –structurally linking research, migration dialogues and capacity building
–contributes to better migration policy development worldwide."
Dr. Mojisola, represented by Mr. Adeniyi Bakre, Programme Assistant, ICMPD pointed out that the collaboration will soon yield a positive result.
Dr. Sodeinde, further commended NAPTIP for its desire to reduce human trafficking to the bearest minimum in Nigeria.
" Let me congratulate the Nigerian National Agency for the Prohibition of Trafficking in Person.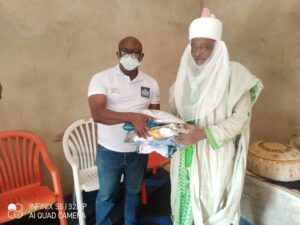 I bring you compliments from the International Centre for Migration Policy Development and Director General of the ANLTP-TIM, Mr. Ousmane Mamane, who we consider both as the joint-host of this history-making
events taking place concurrently in Zinder, Niger and here in kongolan, Katsina State, Nigeria; for their magnanimity and support for this forward-looking initiative, for all the efforts made in coordinating part of the logistics required to plan this event. I similarly want to commend National Agency for the Prohibition of Trafficking in Persons (NAPTIP) and its counterpart, the Nigerien National Agency for the Fight Against Trafficking in Persons and Illicit Trafficking of Migrants, (ANLTP/TIM), for taking this bold step to institute a formal process for bilateral cooperation on issues relating to trafficking in human beings. She stated.
Dr Mojisola further stated that the general objective of the caravan sensitization was to make the residents of the communities understand the concept of human trafficking.
She Furthermore highlighted the measures taken to protect the rights, roles and responsibiities of the various actors and the sanctions involved for different concepts of trafficking in persons and illicit trafficking and the negative impact it has on the society the education of children, and going further the dangers linked to irregular migration, explained that collaboration will also bring local government area of Katsina and Jigawa States, especialy in this exercise which will also expore the risks linked to irregular migration and the impact it has on victims of trafficking and migrants, especially in vulnerable situations.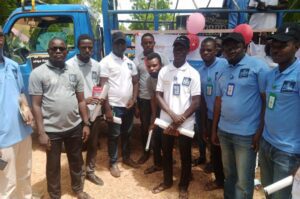 Also in their separate remarks in both Babura and Kongolan communities, the District Head of Babura, Alhaji Mustapha Nata'ala and Muhammmad Mahmoud Diddiri commended the collaboration, noting that the combine efforts by Nigeria and Nigerien Authorities and ICMPD will soon bring a successful story in both Countries.
The two District Heads, urged NAPTIP to establish their offices in both Babura Community Jigawa State and Kongolan Border Town with the view to curtail the menace in two communities at simplest way.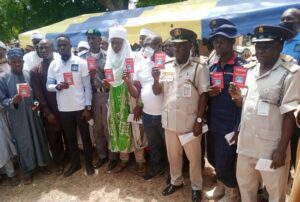 Also in his presentations in both the 2 communities, Barrister, Abdullahi Babale, the Kano Zonal Commander, spoke on the offences and punishments related to irregular migration.
" Any person found in the act of human trafficking is liable for 7 years in jail in addition with compulsory fine."
He admonished the people in two communities to report any suspicious movement to the agency.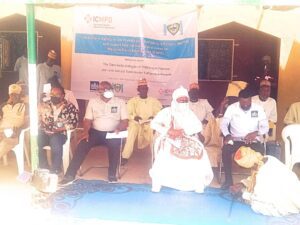 Barrister Babale further spoke on historical background of NAPTIP in Nigeria saying it was first established in 2003, after series of complaints from different countries across the Globe.
The Commander explained that the Agency's Functions include: prevention, Investigation, Prosecution Rehabilitation, Partnership and Enlightenment.
Similarly, presenting his paper on overview of human trafficking and negative consequences, Aliyu Abba Kalli, Head of Public Enlightenment Kano Zonal Command of NAPTIP, stated that over 4000 children were rescued in Kongolan from the inception of Zonal Command in Kano.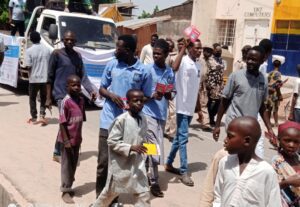 He lamented that, traffickers persuaded victims family with fake promises, noting that the agency is doing its best in tackling the menace and according to him, the fighting is yielding a fruitful result.
Child Trafficking: NAPTIP Takes Awareness Campaign to Rural Areas
The event ended in both communities with questions and answers from participants
Consequently, the caravan held a meeting with key stakeholders and traditional leaders and solicited their support in the fight against human trafficking in their communities.