As part of the activities implemented under the framework of the project: " Strenthening Cooperation between Nigeria and Niger on Trafficking in Persons" funded by the Netherlands and implemented by International Centre for Migration Policy Development ( ICMPD) the Nigerian National Agency for the Prohibition of Trafficking in Persons ( NAPTIP) and its counterpart, the Nigerien National Agency for the Fight Against Trafficking in Persons on Migrants ( ANLTP/TIM) organized a joint caravan Sensitization and Community Dialogue and Trafficking in Persons) from September 27 to 28, 2021.
Sexual and Gender Based Violence: ROLAC Meets With NAPTIP Boss
In a statement issued to Justice Watch News by Dr. Mojisola Sodeinde, Head, ICMPD West Africa said the sensitization programme was targeted at the local population living around the border communities on both the Nigeria and Niger sides.
The statement reads : " While the Nigeria's NAPTIP focus its outreach exercise at the Babura and Kongolum areas in Jigawa and Katsina States respectively, the Niger ANTLP/TIM concentrate its efforts in Zinder, Niger Republic.
Trafficking: NAPTIP receives 80 rescued victims in Kano
" The Sensitization activity was designed to hold concurrently on both sides of the border i.e Niger and Nigeria, as part of the effort to strengthen cross-border cooperation between NAPTIP and ANLTP-TIM in the fight against trafficking in persons and other transitional organized crimes in around the border areas.
The statement stated that the , it exchange and flow vital information's on crime among law enforcement agencies in border areas.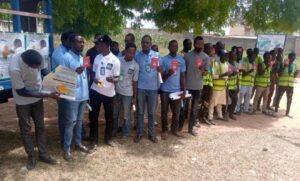 The Project " Strengthening Niger- Nigeria Cooperation on Countering Trafficking in human beings was lunched at a two – day event held on 14, 15 June , 2021 in Niamey, Niger Republic. Following this, the inaugural meeting and subsequent meeting if the Joint Technical Working Committee was held on 17th June, 2021 in Agadez. Discussion during to the first and second JTWC centered on chatting a way forward for joint Sensitization activities identification, referal of victims as well as prosecuting the cross border trafficking in Persons' cases between Niger and Nigeria." The statement further stated.
NAPTIP Seals Baby Factory In Aba, Arrest 3 Suspects
In the statement, Dr. Mojisola disclosed that the International Centre for Migration Policy Development (ICMPD) is an international organization founded in 1993; currently with 18 European Member States and active in more than 90 countries worldwide. ICMPD takes a regional approach in its work to creat efficient cooperation and operation and partnership.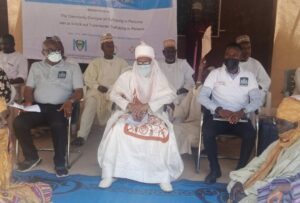 It explained that the ICMPD offices are locatedin Abuja (Nigeria), Accra (Ghana), and Tunis (Tunisia). ICMPD holds UN observer status.
Regions include Africa, Central and South Asia, Europe and the Middle East. The ICMPD Headquarters is located in Vienna; with a mission in Brussels, a Regional office in Malta and project offices in several countries. In Africa.