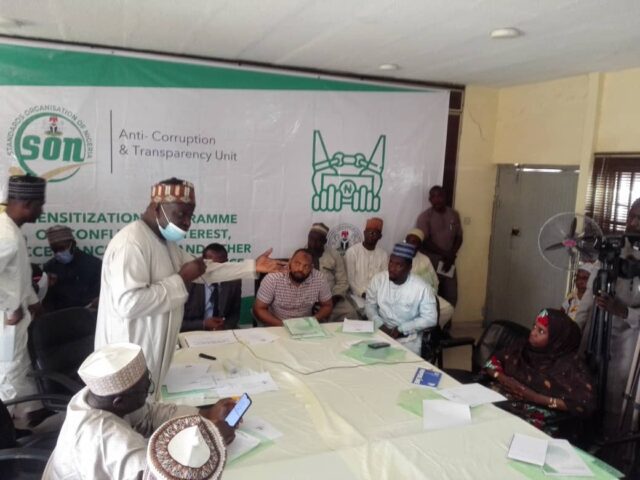 The Standard Organisation of Nigeria (SON), in collaboration with the Independent Corrupt and Other Offences Commission (ICPC), on Thursday, sensitised its staff on how best to handle conflict of interest, gratifications, among others.
Speaking at the programme in Kano, the SON Director-General, Malam Faruk Salim, said the aim was to enlighten and refresh their memories on the provisions of existing laws.
"There are laws guiding conflict of interest, acceptance of gift and other offences in the service, hence the need to refresh your memories and guide you on the right path.
11 Persons Die, Property Worth N10.5m Destroyed By Fire In Kano
"We shall monitor and oversee compliance with certain categories of the civil service rules, promote ethics, ensure integrity and compliance with ethics code," he said.
Salim was represented by the Deputy Director, Human Resources, who is also the Chairman of SON's Anti- corruption and Transparency Unit (ACTU), Alhaji Saleh Babaji.
The director general said that the laws had been in existence for more than 15 years, adding that the sensitisation would equip the staff in their interactions with stakeholders, and help them avoid instances likely to bring the organisation to disrepute.
ICPC arraigns Ex-NIS Officer over Certificate Fraud
"We hope that by the end of the programme, you would become conversant with some of the expectations on civil servants with regards to ethics and good conduct.
"Under the present administration of SON, the unit has enjoyed tremendous support and liberty from the DG to deliver on its mandate," he added.
The DG appreciated SON and the ICPC for their readiness to guide and ensure a seamless operation of the unit.
He further explained that the ICPC, through Section 7.1-1 of the "standing order for the operation of ethics and compliance units in MDAs, (was mandated to) conduct investigation on corruption within the organization".
Corroborating the DG's position, the Kano state Coordinator of SON, Alhaji Yunusa Muhammad, said the sensitisation was timely and would help them to know what is expected of them in terms of productivity.
Similarly, Mr. Kuma Moor of the Legal services department of SON said that the sensitisation was to create a balance in conflicts between its staff and other public servants, while discharging their official responsibilities.
"We are trying to start from the foundation, move forward to avoid personal interest, address corruption that is prevalent in the civil service", he said.
He said that the sensitisation programme would be extended to its Port Harcourt and Lagos offices.
The highpoint of the programme was a paper presentation by a representative of the legal department of the ICPC, Alhaji Ibrahim Garba.
The paper was entitled: "ICPC Act in relation to ethical conduct and corruption." (NAN)