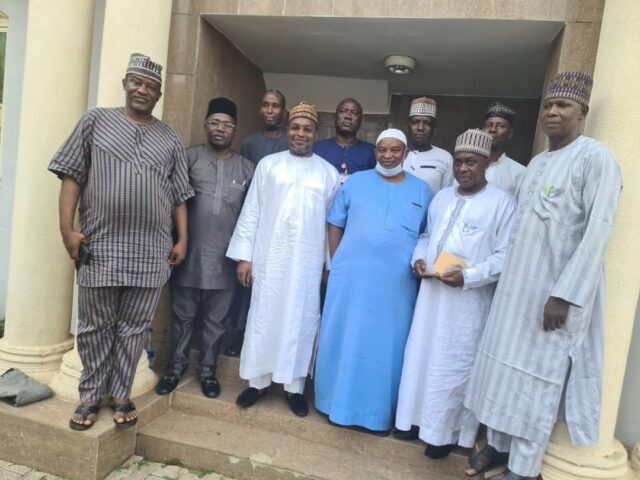 The National Chairman and Commander General of the Vigilante Group of Nigeria (VGN), Navy Captain Umar Bakori (rtd) has restated his readiness to provide support to over one million officers and men of the Para-military Organizations across the Country in line with the Federal Government effort to rid the country of all forms of insecurity, including terrorism, banditry, kidnapping, armed robbery and all forms of crimes affecting peace, unity and development of the country.
Bakori has explained that Members of the Vigilante Group have been trained to provide needed complimentary support to Nigerian Armed Forces and Police to rid the country out of crimes.
Commander General Bakori disclosed this during a strategic stakeholders meeting with the National President of National Union of Road Transport Workers, (NURTW), Alhaji Tajudeen Ibikunle Baruwa, and National Coordinator, Community Policing Agenda Project Build Nigeria, Amb Dr Muhammad Bello Dalha a Deputy Commissioner of Police Special Constabulary (DCP/SC) on ways to tackle the menace of insecurity in the country.
VGN Boss Harp's On FG, Villante Synergy In fight against insecurity.
He appealed to Dr. Muhammad Bello Dalha and Alhaji Baruwa to collaborate together with VGN to assist the Muhammadu Buhari led Adminstration in enhancing security across the country.
On his part, Deputy Commissioner of Police and Special Constabulary Muhammmad Bello Dalha has assured the the VGN that the ongoing collaboration between the National Executive of Community Policing Agenda Project Build Nigeria, that recruited many Vigilante members into community policing in recent recruitment exercise will be sustain
He said President Muhammadu Buhari expected his team to deliver on stabilising security at the community level, by providing the necessary intelligence backbone to the Police to nip criminality in the bud at the community level.
IGP Appoints Bello Dalha National Coordinator Police Project Build
Also Speaking, Alhaji Baruwa pledged the support of the (NURTW) to work with the (VGN) in ensuring peace for all Nigerians where ever they may choose to travel or reside in the country.
According to the statement by ACG Igho Akeregha, National Public Relations Officer VGN, said the three leaders had assured to hold regular meeting to review the challenges as well as the progress in their desire to secure Nigeria.
The statement maintained that the meeting which held during an official visit of the (NURTW) President and the Community Policing Agenda Boss to the National headquarters of the (VGN) in Abuja also had in attendance Amb. Ibrahim Bala Aboki, National Secretary of the Community Policing Agenda Project Build Nigeria.
The statement added that during the engagement, the three National figures brainstormed on the best strategies to curtail insecurity in Nigeria to support the vision of President Muhammadu Buhari and ensure peace and progress of the country.